Rosabieng Restaurant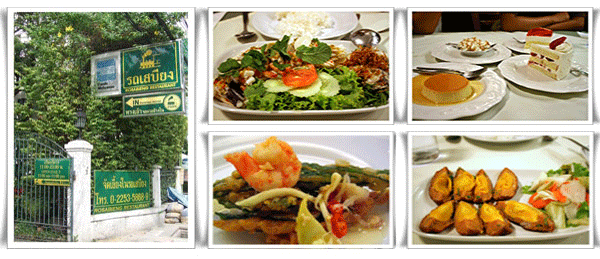 Rosabieng Restaurant on Soi 11 offers Exquisite Thai food in a superior atmosphere. Located opposite the Ambassador Hotel, Rosabieng offers a tranquil retreat from the bustling street traffic. During the evening, the location is like an Oasis. The building, it's lighting, and wood terrace are blended perfectly together. With Live Jazz nightly, the ambiance is something special.
The wooden patio is split over different levels and surrounded by a body of water and tall trees. The Thai word Rosabieng means the dining car of a train. Keep that in mind and expect to see the train theme flowing throughout. Inside, the simple but elegant furnishings encircle a large showcase of a miniature European town with an electric train.
The menu offers a mix of fine dining and home-cooked fare. The menu is enormous, and there are choices for everyone's pallet. The menu is explained in English with pictures for your convenience.
Location: 3 Sukhumvit Soi 11, 210 m. from Sukhumvit Road Left Hand Side
Nearest Train: BTS Nana station
Tel: 0-2253-5868-9
Opening Hours: Daily 11 am. - 11 pm.